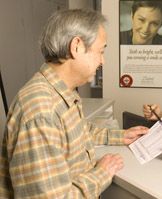 Gregory Zabek Advanced General and Cosmetic Dentistry offers comprehensive dentistry in San Francisco, California, and surrounding areas of Corte Madera, San Rafael, Oakland, East Bay, Richmond, and Orinda, California. We care about the health of your teeth and want you to receive the quality dental care you deserve, without breaking your budget. Below, you will find information on our financial options. If you have any questions, please do not hesitate to ask us!
Our office accepts the following payment options:
Cash and checks
Most dental insurance plans
Visa and MasterCard
CareCredit
Our dentist accepts the following dental insurance companies and health plans:
Ameritas
Automotive
Blue Cross
California Ironworkers
CBS Administrators
Cigna
Concordia
Connecticut
Delta Dental
Directors Guild of America
Employee Benefit Administrators
Financial
Fortis
General
Guardian
Humana
Industries
Jefferson Pilot
Liberty Insurance
Massachusetts Mutual
Metlife
One Health Plan
Prudential
United
If you do not see your insurance provider on the list, or if you have any questions, please do not hesitate to contact us at 415-362-1102. We look forward to keeping your dental care at an affordable price!